The NEXT Steps Youth Entrepreneur Program
A 501c3 Non-Profit Organization
The NEXT Steps Youth Entrepreneur Program (NSYEP) is an award-winning, 501c3 private operating nonprofit foundation located in Atlanta, GA. It was founded in 2008 by daughter and mom duo Jalen Valencia Harris and  Dana Jewel Harris, CEO of The NEXT Steps Small Business Incubator (NSSBI) and creator of the NEW! Community On Demand™ Learning Management System.
Our Mission Is Simple . . . Sort Of
Our Mission
Why Employability Skills?
Our Mission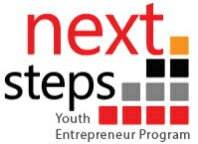 As the official nonprofit partner of The NEXT Steps Small Business Incubator, we are tasked with implementing the Community On Demand™ LRNG Logic Model.  This means utilizing the Community On Demand™ Learning Management System with digital technologies, entertainment and entrepreneurship to create local learning ecosystems that provide effective business, curriculum, leadership and employability skills development.
NSYEP will be responsible for using the  Community On Demand™ Learning Management System to deliver basic skills training (employability skills development), meaningful work-based learning experiences, and empowering leadership development workshops.
NSYEP will also be responsible for creating career development opportunities that provide technical assistance, industry recognized micro-certifications, and the  work supports (i.e. wrap-around services) required to ensure measurable levels of personal and professional growth.
Because our learning environments are designed to maximize engagement, strengthen financial literacy, create socio-economic awareness, and develop sustainable, purpose-built lives, businesses and communities, we are able to help learners:.
Define, measure, build and name up to 63 of their high-demand employability skills an
Transform their knowledge, capabilities, interests, STEAM skills and achievements into digital credentials, career-building opportunities, enhanced work-based learning experiences and social enterprises.
Why Employability Skills?
The National Standard for Employability Skills Development in US K-12 Career, Technical & Agricultural Education Curricula
As a supplement for Career & Technical Education (CTE) Curricula, Community On Demand creates fun learning environments and meaningful work-based learning experiences to increase the technical and soft (employability) skills of K-12 youth, young adults, STEAM educators and lifelong learners.
CTE Works for Students
CTE Works for Businesses
CTE Works for the Economy
CTE Works for Students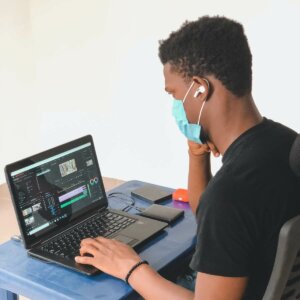 High school students involved in CTE are more engaged, perform better and graduate at higher rates.
81 percent of dropouts say relevant, real-world learning opportunities would have kept them in high school.
The average high school graduation rate for students concentrating in CTE programs is 93 percent, compared to an average national freshman graduation rate of 80 percent.
More than 75 percent of secondary CTE concentrators pursued postsecondary education shortly after high school.
Postsecondary CTE fosters postsecondary completion and prepares students and adults for in-demand careers.
4 out of 5 secondary CTE graduates who pursued postsecondary education after high school had earned a credential or were still enrolled two years later.
According to research in Texas, Colorado and Virginia, graduates with technical or applied science associate degrees out-earn bachelor's degree holders by $2,000 to $11,000.
27 percent of people with less than an associate degree, including licenses and certificates, earn more than the average bachelor's degree recipient.
CTE Works for Businesses
CTE Works for the Economy
Dana Jewel, Jalen & Benjamin Harris
NEXT Steps was founded by U.S. Army Veteran Dana Jewel Harris and her daughter Jalen Valencia Harris in 2008.
About Jalen
As a child, Jalen was a brilliant artist — creative and full of colorful ideas. However, at the age of 11, she was diagnosed as being bi-polar. The mental stress that accompanied her condition often put her in situations that would sometimes spiral out of control. As her mom, Dana felt a deep sense of urgency to create fun and innovative youth leadership programs that would give young innovators like Jalen, safe, learning environments to gain the knowledge, skills and experiences they needed to strengthen their readiness for the real world.
As a solution to managing the mind-numbing side effects of being bi-polar, Dana and Jalen used the farm as homeschool headquarters and much welcomed therapy.
The farm helped Jalen gain an abundance of skills. She co-managed all operations with her mom, somehow became the resident animal whisperer, and helped serve over 1,500 visitors that came to the farm each year.
When she entered high school, Jalen was immediately enrolled in the gifted program, served as first chair of the orchestra, became assistant manager of the football team, and was offered a top-security clearance position with the US Navy after she graduated high school. She even started her own entertainment management company. Unfortunately, at the age of 19, Jalen lost her battle with bi-polar disorder to teen suicide — one day before her modeling debut.
About Ben (aka "Benji")
Benjamin joined the team in 2019 when he first used the Community On Demand™ game set to identify the skills he gained while caring for his classroom's pet geckos over the summer. Since then, he has helped developed the NEXT Steps website and participated in our youth leadership classes.
Now that he's in high school, Benji has taken on a key leadership role by serving as the General Manager of the NEXT Steps Junior Executive Management (JEM) Team. He recently started his SIP Instructor Certification to become our first Youth Leadership Development Coach and is currently conducting his training through his Air Force JROTC class.
Upwards Spiraling
In honor of Jalen's hard work, creativity, and entrepreneurial spirit, Dana and Ben took all of best things that came from Jalen's life and are using it and the Community On Demand™ to inspire others.
"My goal now is to pass along the energy and spirit of Jalen's hard work and creativity to help other young innovators build bright futures for themselves." ~ Dana Jewel Harris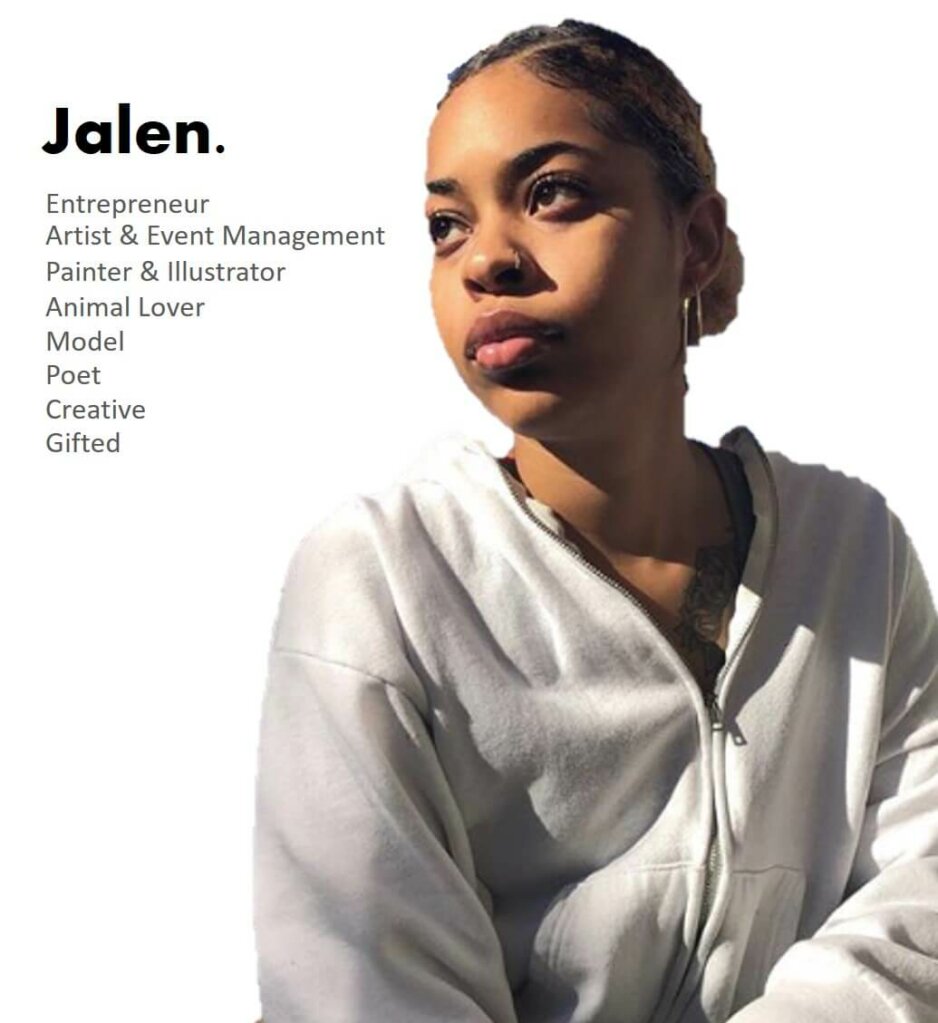 Jalen was an advanced student and scored high enough on the military aptitude test to be offered a $19,000 signing bonus, five pages of career opportunities, and top security clearance for the Navy. Jalen was part of numerous leadership groups, managed several sports teams in high school, and won several trophies and contests.
She was highly competitive, bossy, and driven. Her passion and her emotions knew no bounds when she believed with her whole heart. Yet, in spite of being a winner, Jalen suffered from depression and was bi-polar.
Being bi-polar meant whatever Jalen thought, believed, and felt — it was intensified and magnified by 10,000. Whether she was happy, sad or angry, she experienced those feelings at unprecedented levels. There was no in-between, so her energy was always raw, unfiltered and extreme. It's what made hard times EXTREMELY harder for Jalen and our family but made her who she was. Layered on top of her creativity, the complexities of her mind and imagination took the illusion of unwinnable hardships to even higher dimensions to the point where she ultimately decided to use suicide as a permanent solution.
In spite of her circumstances, Jalen was a winner. Her downfall was not being bi-polar,  she just HATED asking for help. She always did things according to her own terms (including her death), but it often led to many disappointing and heartbreaking outcomes. So battling depression alone made living life unbearable.
A few months before Jalen died, she started meditating, detoxing, and spiritually cleansing herself. She marked this transition with her first #upwardsspiraling post on Twitter. She had even written a serenity prayer and posted it on her wall as a daily reminder to stay calm and positive.
I was so proud of her progress and her personal decision to Do Better. Think BIGGER!
She has always been my muse, my inspiration and my purpose. So, to honor her legacy, I will continue using #upwardsspiraling and fundraising on her behalf to send a message to kids just like like her.
SO REMEMBER . . . If you are out there battling depression, heartbreak, disappointment and stress, I want you to fight, claw and dig your way out of your situation #upwardsspiraling:
1. Take a pause and breathe
2. Re-assess the power and value of your skills
3. Come up with a new plan of action, and
4. Ask for help to make it happen
I love you and miss you Jalen!
If you have any pictures or videos of Jalen, please don't hesitate to share them with me.
Facebook: nextstepsyep

Instagram: @nextstepsyep

Email: events@nextstepsyep.org

Youtube Channel:
The Upwards Spiraling Foundation (
Coming Soon
)
Contact Us
Jalen's Homegoing Tribute Video
Jalen's Guest Appearance
(0:33; other quick cameos)
Jalen's Modeling Debut
(7:16 – 8:25)
Help Us Build The Community On Demand™ Creative Economy
Join a group of people who care about the future and want to advance our groundbreaking advocacy, service and development to revolutionze STEAM education.
Those who know how, will always have a job.
Those who know why, will always be their boss.
Those who know what to do, determine the outcome.
3104 Briarcliff Road
P.O. Box 29605
Atlanta, GA 30345
Copyright 2008-2022.
NEXT Steps YEP. All rights reserved.