Build Your Skills.
Build Your Team.
Build Your Career.
Build Your Community.
Play To Win!
Our real world "game of life" strengthens a learner's skills through community-based service learning projects.
"Community On Demand makes thinking fun."
– Mrs. Hinchberger's 6th-8th Grade Focus Group 
Stimulate Creative Thinking!
Prepare Youth and Young Adults for College & Career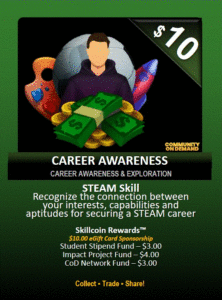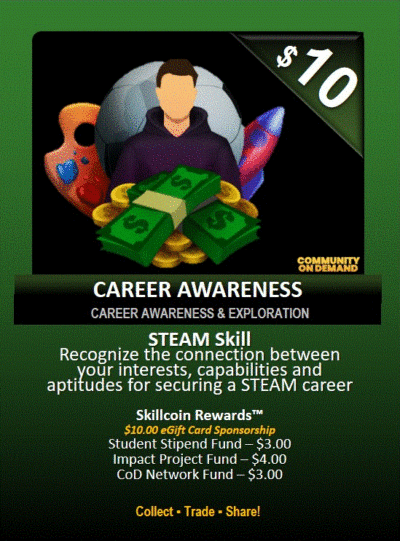 Use a combination of skill cards, skill counts, STEAM Education egift cards, digital badges, and micro-certifications to assess skill growth and reward student achievement as learners use their skills, knowledge and creativity to increase their contribution values and solve real world problems.
Learners with the highest contribution values win the game!
NOTE: eGift card sponsorships are treated as tax-deductible donations to The NEXT Steps Youth Entrepreneur Program (a 501c3 nonprofit organization)

Create Innovative Learning Opportunities
The Socio-Economic Impact
By addressing the socio-economic conditions that are negatively impacting their local communities, learners are able to strengthen, measure and track the high-demand skills they use to create their Community On Demand impact solutions and service-learning projects.
Key Focus Areas for Social Impact
Civic Leadership

Expands opportunities for application of high-demand employability skills within their local economies

Health & Wellness

Improves physical, mental, emotional and behavioral health of students and families by increasing awareness and utilization of the benefits offered by the health and wellness service providers within their communities

Agricultural Sciences & Urban Design

Identifies, assesses and converts underutilized areas into multi-use green spaces for community enjoyment and preservation

Introduction to STEAM Career Clusters

Creates youth-based employment opportunities within their local economies

Social Entrepreneurship

Provides financial literacy programming and fundraising opportunities through job shadowing, mentorship, school-based enterprises, service-learning projects and social enterprises that address socio-economic issues within each Community On Demand

Environmental Engineering, Exploration & Stewardship

Helps students understand their role in sustaining their natural and built environment by using digital media technologies to capture, value, present and celebrate the availability and effective use of resources within their community's ecosystem.
Track & Measure Skill Growth
Purchase Our Skills Assessment Tools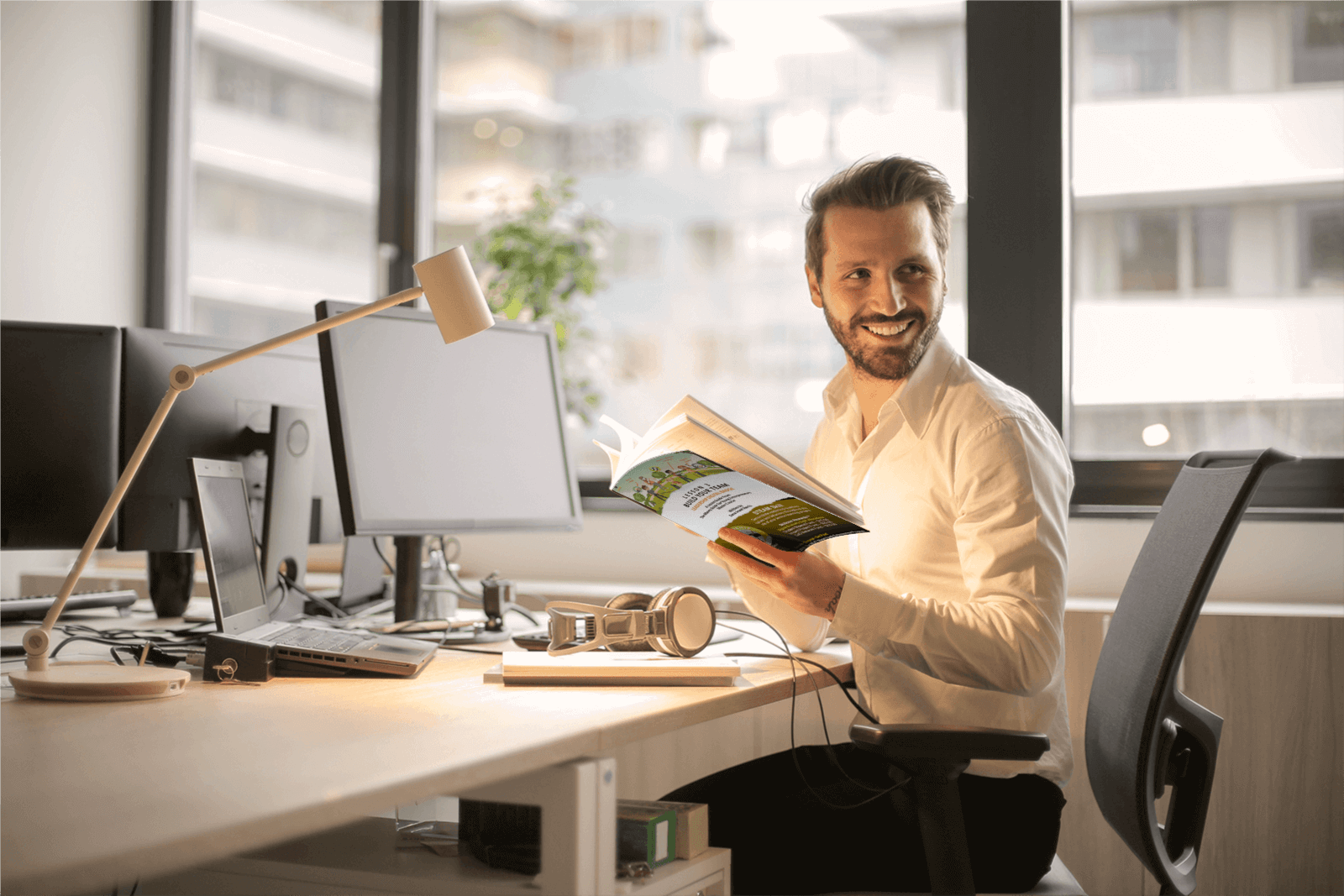 WANT TO INTEGRATE COMMUNITY ON DEMAND INTO YOUR CURRICULUM?
Sign up for our Train-The-Trainer Workshop
YES! I want to learn how to integrate Community On Demand into my leadership training, skills development and workforce readiness program(s). Please save me a seat!