Description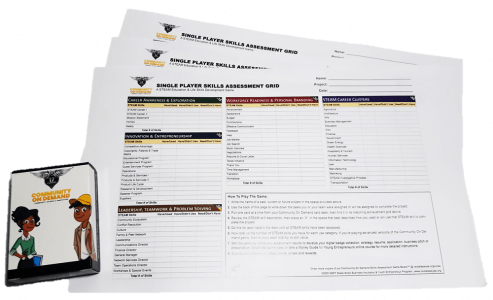 STEAM SKILLS SELF-ASSESSMENT WORKSHEETS (Multi Player)
$10.00 | 3 Color, 11 x 8.5 card-stock Worksheets
One (1) single use, letter-sized project-based mapping checklist that is used with the 63 high-demand skill cards from the Community On Demand card deck to help teams of any age quickly assess and track how they use their employability skills to solve real-world problems.
How To Use:
The multi player version of the Community On Demand™ card game is played using Community On Demand™ Skills Self-Assessment Worksheets. Learners are able to use the card deck with the skills self-assessment worksheets as mapping grids to track the growth of 63 employability skills they have, use or need at any given point during the life of a past, current or future project. Simply keep all dated copies of The Community On Demand™ Skills Self-Assessment Worksheets in the teams' portofolio , binder or folder to help them track and celebrate their achievements.
Key Benefits:
Great for workforce development agencies, Career, Technical & Education courses, corporate hiring managers, mentors, college recruiters, leadership development courses, etc.
Filling out job or college applications, creating pitch presentations, developing mission statements or designing/conducting team projects.
Comes with game instructions and a think tank doodle space on the back to give teams extra room for mapping out their thoughts.
Can be completed in one hour or less!
Great for learners of any age (8 to adult)
NOTE: It is recommended to have teams conduct a pre and post skills assessments during a project (beginning, middle, end).