Description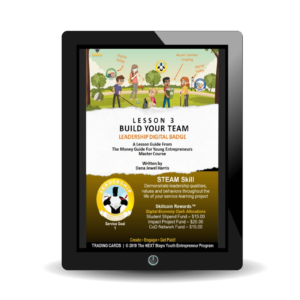 LESSON 3. BUILD YOUR TEAM
$19.99 per person
In this lesson, you will use The STEAM Investigative Process to demonstrate your ability to build a team by assessing the time, skills and resources each member can contribute towards creating and implementing a solution that can address, reduce and/or eliminate the negative impact of a real world challenge affecting your community. By completing this lesson, you will learn how to:
Demonstrate the leadership qualities, values and behaviors you will need to complete your service-learning project
Use the Community Involvement Growth Strategy (CIGS) Model to maximize use of your team's resources.
Form a Junior Executive Management (JEM) Team for your service-learning project.
Demonstrate your understanding of the importance and value of teamwork as it relates to your mission and impact solution.