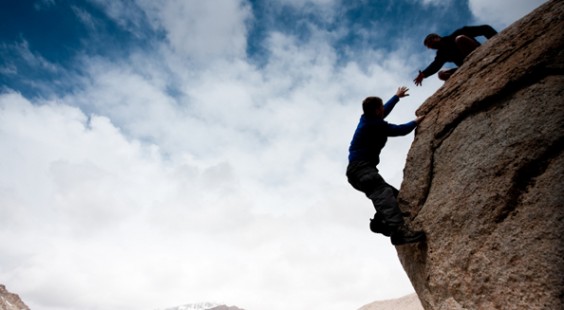 Where The Heck Have You Been!?! The Re-Birth of My TRENDS Blog
"One of the center's first programs this summer, Money Guide for Young Entrepreneurs, invites students to free summer classes from June 10 to Aug. 2. Students will pick a community issue and use science, technology, engineering, art and math skills to tackle the problem, Richards said."
– BY LUKE RANKER, Fort Worth Star-Telegram
Read entire article
May 06, 2019 01:56 pm, UPDATED May 06, 2019 04:06 pm
Where The Heck Have You Been!?! An Explanation Regarding The Re-Birth of My TRENDS Blog
So, it's been five years now since I shuttered my award-winning Atwood Community Gardens & Urban Farm Park (including my TRENDS Blog). The journey from that heart-breaking day up to this "come back" moment has been a whirlwind of ups, downs, setbacks, losses, and disappointments. The hardships along the way tested my commitment to fulfilling my life's mission to bridge the communications gap between business and education communities regarding STEAM skills development, training and workforce readiness. After much reflection, I must admit that each and every character-building moment has been well worth it. With TRENDS, I will be sharing the steps (and stumbles) I took during the time spent re-building my company, my system , my vision and my brand. Hopefully my transition from urban farming to becoming a successful children's book author and co-owner of two cooperatives will inspire and encourage others that are on similar paths.
What Does TRENDS Stand For?
Originally TRENDS stood for Teaching and Researching Environmental Developments Through Science Technology, Engineering and Mathematics". I even created a cute little robot named RND as a research & development mascot. 
Before my first day of launching Atwood, I had designed an entire marketing campaign around creating TRENDS DataReports called RND. RND TRENDS DataReports was supposed to capture the trends in STEAM education created from Atwood's farm and garden management (project management, business development, special event coordination, environmental stewardship and economic development) as well as the organic launch of local startups through our farmer's market every market season. This, in my mind, made Atwood the ultimate applied learning environment for STEAM education and small business incubation. Although, my RND TRENDS DataReports never really saw the light of day, from 2010-2014, my vision for Atwood Community Gardens fully materialized.
TRENDS Today
Never wanting to waste a good idea, I have decided to re-brand TRENDS with the tagline "Training that Reaches Everyone who Needs to Develop their STEAM skills". As intended, the TRENDS Blog will still capture the essence of TRENDS in STEAM education through agricultural technologies with open outdoor design. And as a reflection of our own growth trend, it will include our expanded focus on our integration strategy of digital and social media technologies, financial literacy, blockchain technology, entertainment and entrepreneurship. We call this new TREND Community On Demand.
Why Is The TRENDS Blog Sooooo Important?
In 2011, the economic development community in Georgia, led by Governor Deal, heard from the private sector that one of the greatest challenges facing businesses in Georgia, nationally, and globally is the need for a consistent, trained and reliable workforce. In response, Governor Deal created the High Demand Career Initiative (HDCI) (Link)to allow those state partners involved in training Georgia's future workforce – primarily the University System of Georgia (USG) and the Technical College System of Georgia (TCSG) – to hear directly from the private sector about what specific needs they have from a workforce perspective (i.e., degrees/majors, certificates, courses, skillsets, etc.). With decision makers from each of these entities at one table, they were able to gain a clear picture of what Georgia businesses needed from a workforce and paired them with existing assets and/or collectively tackled any gaps, one by one.
In response to this initiative, I created the ATWOOD acronym. You see, Atwood Community Gardens was located on Atwood Street in West End, Atlanta. However, after understanding how I could use Atwood to help businesses meet their employment needs through service-learning projects, I turned the name Atwood into an acronym and land use model that represented Agricultural Technologies With Open Outdoor Designs for STEAM Education. Since food is the only industry in the world that is a part of every other industry in the world, the ATWOOD Model perfectly captured my vision of utilizing agri-business and agri-tourism to revolutionize applied learning through STEAM education. Once the foundation of the ATWOOD Model was set, it organically led to the creation of my Digital Badge & Skillcoin Rewards System™, the Money Guide for Young Entrepreneurs activity workbook series, and ultimately The Community On Demand STEAM Education & Life Skills Development Game.

6 Key Topics my TRENDS Blog Will Feature
My TRENDS Blog will feature six key topics that will capture and share my progress throughout the development of my system.
The Money Guide for Young Entrepreneurs Curriculum Series

Link

The Community On Demand Digital Economy & Digital Media Network

Link

The Community On Demand STEAM Education & Life Skills Game

Link

STEAM Education Trends Within the 17 High-Demand Career Clusters & Pathways

Link

NEXT Steps Partners In Education Network

Link

The Ultimate Guide to Understanding our Digital Badge & Skillcoin Rewards System
In my reporting, I will provide an all-encompassing rundown of what my Digital Badge & Skillcoin Rewards System is and how it is used to fuel the Community On Demand digital economy. I will also include explanations of why each topic's components are so important, how they work together, and make suggestions on how school districts, university systems, youth groups, educators, training instructors, life coaches, sales teams, innovators and entrepreneurs can integrate all of our programs and services into their existing curricula, leadership training and sustainable communities' programs and initiatives.
I have gained such a tremendous amount of respect for those who started this journey with me as well as those whose contributions have led me to this moment in the now. So with that comes the story behind the re-birth of my TRENDS Blog, my company and my path towards fulfilling my life's mission. My hope is that I am able to use my TRENDS Blog to share details of my story which, in return, serves as stories of inspiration to the young innovators and entrepreneurs I train and all the people that support them. So here we go!
I'm Interested!
Please add me to your mailing list.