"The Community On Demand Investor/Mentor meetups should create environments that bridge conversations between the business and the education communities. Often times, you find that these entirely connected groups do not speak the same language and, unfortunately, miss the opportunity to grow together at the speed of business. "
– Dana Jewel Harris, Executive Director
NEXT Steps Youth Entrepreneur Program
Addressing The Issue
"Many Georgia business leaders say one of their biggest challenges is a trained, reliable, and consistent workforce. While this is not a problem that is specific to Georgia or the United States, Governor Deal announced the High Demand
Career Initiative (HDCI) in his 2014 State of the State address to proactively identify solutions to address this challenge.
The HDCI connected those responsible for the state's economic development efforts and training Georgia's future workforce— the Technical College System of Georgia (TCSG), the Georgia Department of Economic Development (GDEcD), and the University System of Georgia (USG)—with employers to learn about current challenges and needs (i.e. degrees/majors, certificates, training courses, partnerships) over the next 5 to 10 years. The initiative is not a one-time event but designed to be a sustained effort to create a long-term infrastructure of communication and partnerships to meet Georgia's workforce needs."
Source: Governor's High Demand Career Initiative Report from the Georgia Competitiveness Initiative (2011~2014) https://www.georgia.org/sites/default/files/wp-uploads/2014/04/HDCI-Report.pdf
Our Impact Solution
This report is what ignited the birth of The Community On Demand Trading Card Game. At the time, I still had Atwood Community Garden & Urban Farm Park and had designed a prototype of the Digital Badge & Skillcoin Rewards Micro-Credentialing System. In working with both the business and education communities, I discovered that the disconnect between each industry's was their own value of time. To the business industry, the value of time is directly connected to real and projected cost and revenue whereas in the education industry, time is more relevant to knowledge gained and earning potential.
The solution, therefore, does not lie in getting both communities in the same room, but in finding a way to get them to speak the same language. The Community On Demand Investor/Mentor Meetup was designed to 1) Create environments and service-learning projects that bridge conversations between the business and the education communities; 2) Develop a common language that seamlessly intertwines their timelines, goals and outcomes and 3) Prevent them from missing future opportunities to grow together at the speed of business.
OBJECTIVE #1
MARKETING
To create a community-based media distribution network for advertising, promotions, marketing, sales, marketing research, merchandising and public relations
OBJECTIVE #2
BUSINESS
Utilize JEM Teams to introduce careers in planning, organizing, directing and evaluating business functions essential to efficient and productive business operations.
OBJECTIVE #3
FINANCE
To offer small business incubation and support services in financial and investment planning, banking, insurance, and business financial management for young innovators & entrepreneurs
OBJECTIVE #4
ARTS, FILM & ENTERTAINMENT
To help youth monetize their designing, producing, exhibiting, performing, writing, and publishing multimedia content including visual and performing arts in design, journalism, and entertainment services in real time.
Activity Details
WORKSHOPS
Community On Demand Investment Club will begin hosting Investor/Mentor Meetups on the 2nd Saturdays monthly from 12N – 2pm.
POP SHOP EVENTS
Use CoD Network Funds to invest in special events, career fairs, investor/mentor meetups, showcases and pop up vending opportunities.
DIGITAL MEDIA NETWORK
Our marketing & distribution networks in music, film/tv, fashion, radio, gaming, digital media, arts & entertainment.
Join The Club!
Subscribe to become a member of the CoD Investment Club. Check out our calendar of events to see what activities we invest in. Earn trade points that can be converted into discounts at checkout.
Are You Ready To Play?
Use the following products and services to play The Community On Demand Trading Card Game for any service-learning project.
Take online courses to learn how to earn digital badges and master your STEAM Skills
Use eGift and trading cards to promote your STEAM skills and raise funds for your projects
Lesson plans provide detailed instructions and explanations from each online course
Collect, trade and share Community On Demand trading cards that represent your STEAM skills
Purchase product bundles to play Community On Demand with your team, business or group
Host Community On Demand training activities and events online or in-person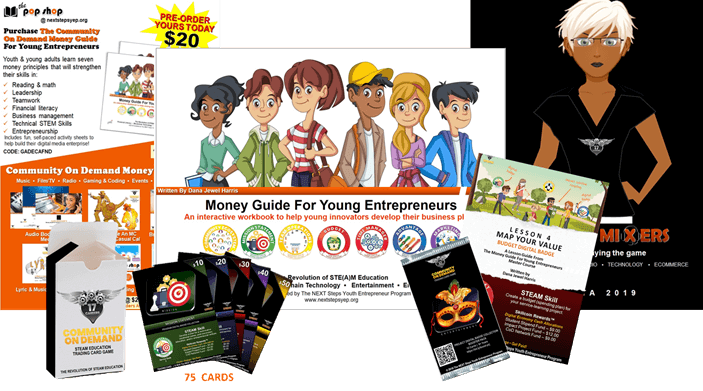 Want To Create Your Own Custom Curriculum?
Our curriculum and activity toolkits are perfect for youth, teens, young adults, adults, homeschoolers, after-school programs, corporate, professional sales teams, workforce development, colleges and any other training format that needs a flexible, blended-learning employment or staff development solution.