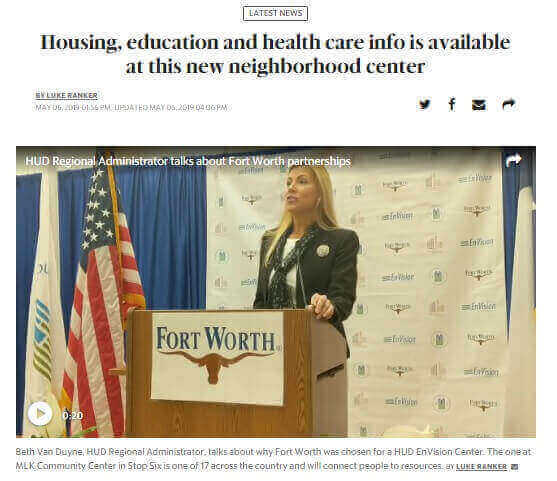 HUD Chooses Money Guide To Launch Fort Worth, TX EnVision Center

"One of the center's first programs this summer, Money Guide for Young Entrepreneurs, invites students to free summer classes from June 10 to Aug. 2. Students will pick a community issue and use science, technology, engineering, art and math skills to tackle the problem, Richards said."
– BY LUKE RANKER, Fort Worth Star-Telegram
Read entire article
May 06, 2019 01:56 pm, UPDATED May 06, 2019 04:06 pm
Addressing The Issue
The U.S. Department of Housing and Urban Development under Secretary Ben Carson has pitched the EnVision centers as a means to elevate people out of public housing and into sustainable jobs and housing. The Fort Worth location is part of a pilot program in 17 cities.
Residents, primarily those at the Cavile Place public housing complex, can access information about Fort Worth Housing Solutions and healthcare programs as well as education, job training and résumé help. Suzanne Richards, EnVision Center coordinator, described the center as a holistic approach to battle poverty by giving people the tools they need to improve their situation.
Solving The Problem
One of the center's first programs this summer, Money Guide for Young Entrepreneurs, invites students to free summer classes from June 10 to Aug. 2. Students will pick a community issue and use science, technology, engineering, art and math skills to tackle the problem, Richards said.
Carson touted Fort Worth as model for other cities in March during a tour of the Presbyterian Night Shelter. He has visited the city several times, but during that stop he lauded the partnerships between the city, housing authority, county and various charities.
Fort Worth rose above other cities applying for the EnVision Center because of a strong focus on homeless care and job creation, said Beth Van Duyne, a HUD regional administrator.
PILLAR #1
ECONOMIC EMPOWERMENT
Improve economic sustainability by empowering them with opportunities with training that leads to viable career pathways that lead to real and needed immediate jobs
PILLAR #2
.EDUCATIONAL ADVANCEMENT
Harness the power of public and private organizations that impact educational outcomes by bringing the opportunities directly to those who need them most
PILLAR #3
HEALTH AND WELLNESS
Improve access to health outcomes of public housing residents through forward thinking partnerships with telemedicine and mobile service providers, healthy living counselors and grocery chains
PILLAR #4
CHARACTER & LEADERSHIP
Empower communities with not only the vision to dream big for their families, but give them the mentoring and training to make their dreams a reality
Activity Details
An award of excellence in design and named as creative of the year.
An expert of local spots and hidden attractions.
Dedicated to the life of nomad and freelance from the youth.
Reserve Your Seat Today!
Visual Composer lets you combine several images to create an advanced parallax effect. Experience the easiest parallax for WordPress ever made.
Are You Ready To Play?
Visit the EnVision Center Pop Shop page to purchase the following products and services and play The Community On Demand Trading Card Game for this service-learning project.
Take the Money Guide for Young Entrepreneurs online master course to earn digital badges and master the STEAM Skills for this service-learning project
Purchase the eGift and trading cards affiliated with the Money Guide for Young Entrepreneurs course to promote your STEAM skills and raise funds for EnVision Center projects
Purchase the lesson plans provide detailed instructions and explanations from each online course for the Money Guide for Young Entrepreneurs
Collect, trade and share the booster packs and trading cards that represent the STEAM skills in the Money Guide for Young Entrepreneurs
Purchase product bundles to play Community On Demand with the JEM Teams, businesses or groups that support your EnVision Center
Host Community On Demand training workshops, activities and events online or in-person at your EnVision Center
Want To Create Your Own Custom Curriculum?
Our curriculum and activity toolkits are perfect for youth, teens, young adults, adults, homeschoolers, after-school programs, corporate, professional sales teams, workforce development, colleges and any other training format that needs a flexible, blended-learning employment or staff development solution.