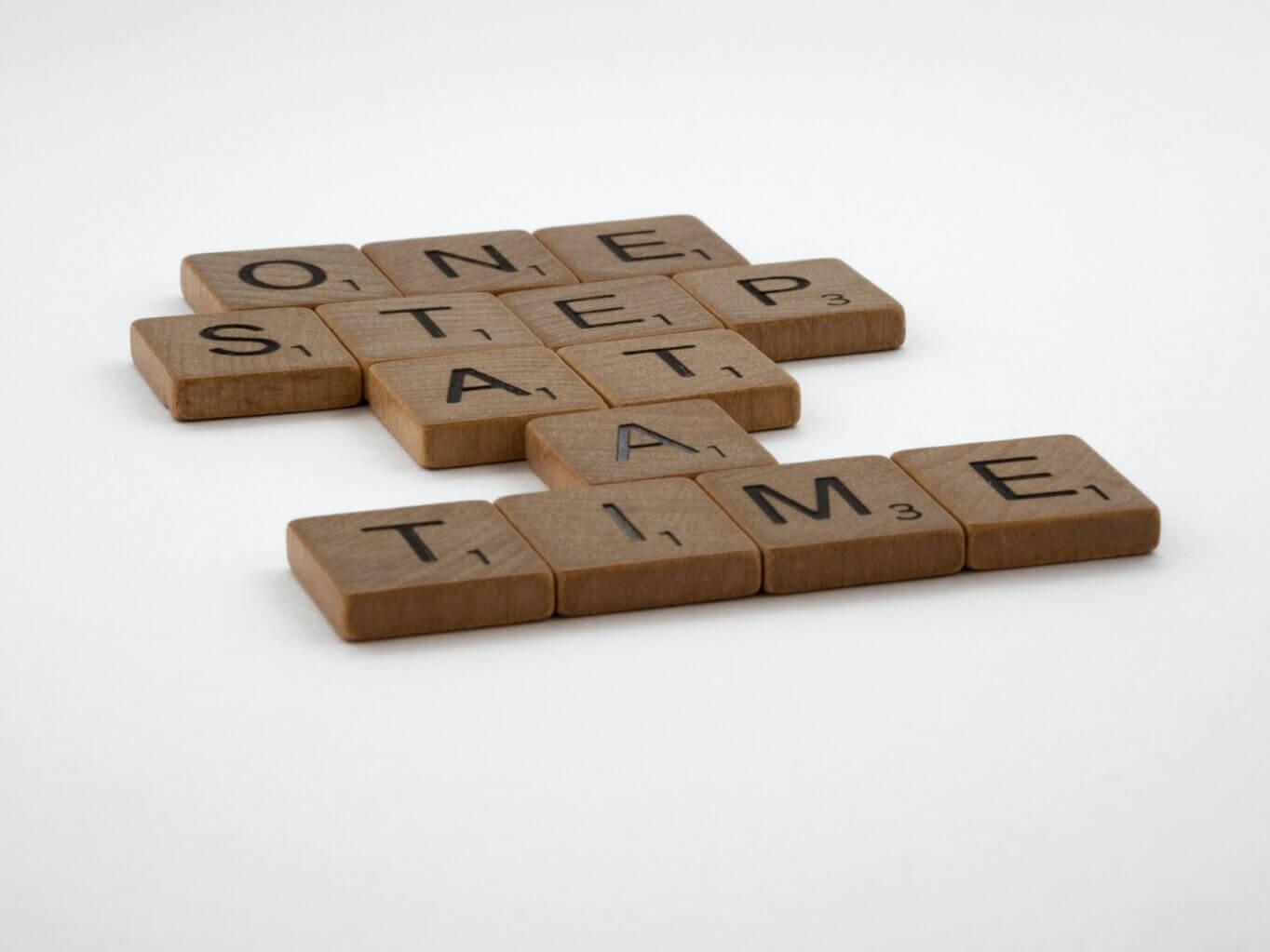 The NEXT Steps Small Business Incubator
Introducing The NEXT Steps Small Business Incubator & Employability Skills Development



The NEXT Steps Small Business Incubator is the company that Dana Jewel Harris created to brand her game-based learning platform called Community On Demand™.  NSSBI manufactures and publishes all of the packaged retail games (sold by unit and by subscription), custom educational game development services, and learning tools designed for serious games.
Our products and services helps educators, administrators, mentors, community leaders, hiring managers, business owners, and workforce development agencies engage a new generation of young American workers by helping them define, measure, build and name their high-demand employability skills for college and career readiness.
Creativity + Vision + Purpose
Dana Jewel Harris, Developer of the Community On Demand™ Brand, brings a wealth of 20+ years of experience in C-Level executive administrative operations and management. Since 2008, she has helped secure over $7MM in funding for small businesses within the SE Region.  Her success is based upon her ability to use new business development strategies to accurately research and document each client's vision as it relates to the desired growth of their company and create service-learning opportunities that increase the technical skills of youth and young adults entering the workforce.
Ms. Harris believes that the creativity and imagination she puts into her game-based learning tools can be used to build a skilled and educated workforce, she would be simultaneously helping employers address, reduce and/or eliminate challenges that threaten their triple bottom line which includes:
Jobs that are difficult to find workers with the right skills
Positions with high turnover
Occupations where a highly skilled workforce is retiring soon
Challenges helping workers keep pace with continuing industry advances
Positions requiring skills that can be learned on the job
Difficulty in attracting new and more diverse talent poolswhe
The Power of
Community On Demand™
Our learning tools create enhanced work-based learning experiences for our partners in education through job shadowing, mentorship, service-learning, school-based enterprises and entrepreneurship.
Those who know how, will always have a job.
Those who know why, will always be their boss.
Those who know what to do, determine the outcome.
Why Employability Skills?
Understanding The Global Labor Problem
A critical workforce challenge in the United States is the skills gap, particularly among jobs that require either a high school diploma, postsecondary certificate, or associate's degree.[1] There are 30 million jobs in the United States that do not require a bachelor's degree that pay median earnings of $55,000 or more.[2]  Jobs requiring these "middle skills" outnumber the adults in the workforce who possess them, and this gap presents a barrier to American economic competitiveness.
Many U.S. business leaders say one of their biggest challenges is having a trained, reliable, and consistent workforce as many employers are faced with a shortage of skilled candidates. Why? Because:
A large percentage of their current skilled employees are expected to retire soon
On-the-job (OJT) training has not been a part of their employee development process
Soft skills, such as communication, teamwork, problem solving, intellectual curiosity, critical thinking, and work ethic are lacking in younger employees
Increasing difficulties in recruiting employees that can pass background screenings and drug tests is on the rise
There is an increasing need for individuals with "work ready skills," such as reading, mathematical skills, statistics, and writing.
Employers need people who are collaborative and who can communicate both verbally and through written form.
[1] Burrowes, J., Young, A., Restuccia, D., Fuller, J., and Raman, M. Bridge the Gap: Rebuilding America's Middle Skills, 2014. Retrieved from : https://www.hbs.edu/competitiveness/Documents/bridge-the-gap.pdf
What Are Employability Skills?
The Employability Skills Framework
Successful careers are built on solid personal and interpersonal skills. Defining, measuring, and building these skills— even naming them— can be challenging. The U.S. Department of Labor created The Employability Skills Framework which breaks down employability skills into three major categories:
Applied Knowledge – critical thinking skills and applied academic skills

Workplace Skills – communication skills, systems thinking, resource management, information use, and technology use
Effective Relationships – interpersonal skills and personal qualities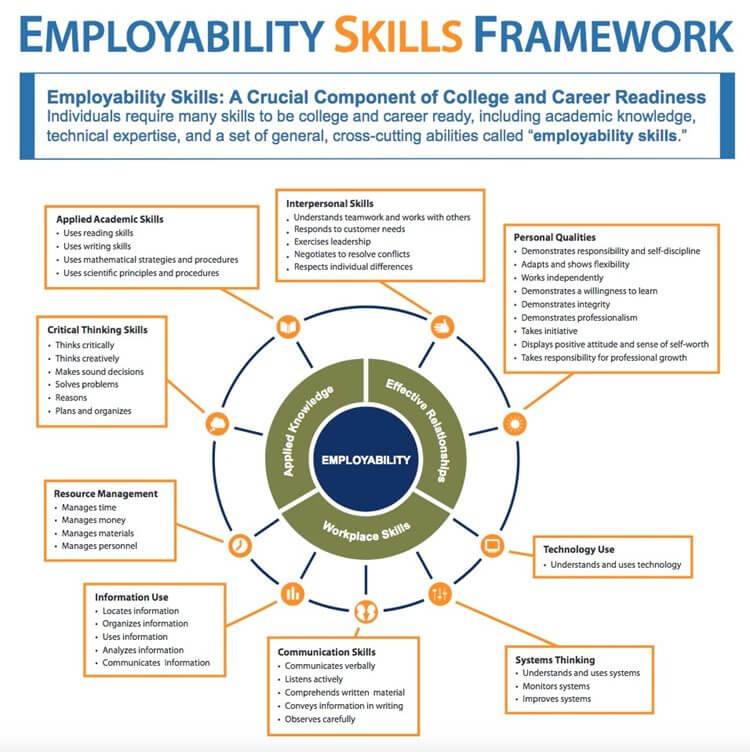 Employability skills are a key component of college and career readiness. Educators or workforce training professionals may already be teaching many essential employability skills in their academic or technical skill classes. This site can be used to consider ways to further integrate employability skills into curriculum and instruction. 
Employability skills are frequently cited among the most important skills required for success in the labor market. They are also an important component of college and career readiness. Employers or industry representatives, play an active role in supporting the college and career readiness of current and future employees by partnering with education and training providers and reinforcing skill development at the workplace. This site also has a separate section with resources for workforce training partners to help design curricula and training programs.
93% of employers term soft skills as either "very important" or "essential.
The Carl D. Perkins Career and Technical Education Act
The Carl D. Perkins Career and Technical Education Act of 2006 (Perkins IV) provides nearly $1.3 billion annually for career and technical education (CTE) programs for our nation's youth and adults. Perkins V represents an important opportunity to expand opportunities for every student to explore, choose, and follow career and technical education programs of study and career pathways to earn credentials of value. As States and local communities embark on the development of new plans for CTE, the Department hopes that the videos, resources, links, and media found below and throughout this Website can be useful tools for States and local recipients in "rethinking CTE" and arriving at bold goals under the newly authorized Perkins V statute.
Historical Data
The Smith-Hughes Act of 1917 was the first authorization for the Federal funding of vocational education. Subsequent legislation for vocational education (now termed career and technical education/CTE) included the Vocational Act or 1973 and the Carl D. Perkins Act of 1984 (Perkins). Perkins was reauthorized as the Carl D. Perkins Vocational and Applied Technology Act (Perkins II) in 1990, the Carl D. Perkins Career and Technical Education Act of 1998 (Perkins III), and the Carl D. Perkins Career and Technical Education Act of 2006 (Perkins IV).
Perkins V Special Populations
One of the purposes of the Perkins V Act is to develop more fully the academic knowledge and technical employability skills by increasing the employment opportunities for populations who are chronically unemployed or underemployed, including individuals with disabilities, individuals from economically disadvantaged families, out-of-workforce individuals, youth who are in, or have aged out of, the foster care system, and homeless individuals.
All recipients of Perkins V funds must serve one or more 'special populations':
Individuals with disabilities
Individuals from economically disadvantaged families, including low-income youth and adults
Individuals preparing for non-traditional fields
Single parents, including single pregnant women
Out-of-workforce individuals
English learners
Homeless individuals described in section 725 of the McKinney-Vento Homeless Assistance Act (42 U.S.C. 11434a)
Youth who are in, or have aged out of, the foster care system; and
Youth with a parent who –
1. is a member of the armed forces (defined in section 101 (a)(4) of title 10, United States Code);
2. is on active duty (as such term is defined in section 101(d)(1) of such title)
Migrant students (secondary only)