The Money Guide for Young Entrepreneurs
Our Mission is to revolutionize STEAM education through
financial literacy, blockchain technology, entertainment & entrepreneurship
"[The Money Guide for Young Entrepreneurs] is a resource guide that stimulates STEAM concepts, community transformation, leadership and entrepreneurship. It is timely, creative and innovative!"
– Chike Akua, Ph.D., Author
Education for Transformation:
The Keys to Releasing the Genius of African American Students
www.drakua.net
The STEAM Investigative Process
Community On Demand Earn & Learn Game Features
WORKSHOPS
Fun, hands on training events with a NEXT Steps instructor or JEM team leader.
POP SHOP EVENTS
Special events, career fairs, investor/mentor meetups, showcases and pop up vending opportunities.
DIGITAL MEDIA NETWORK
Our marketing & distribution networks in music, film/tv, fashion, radio, gaming, digital media, arts & entertainment.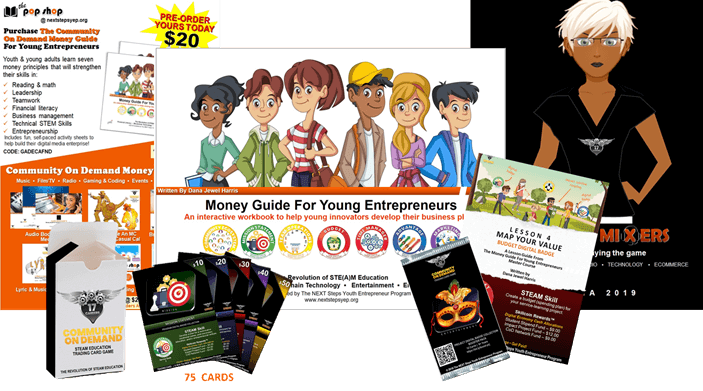 Want To License Our Curriculum Or Create Your Own?
We'll help! Our curriculum and activity toolkits are perfect for youth, teens, young adults, adults, homeschoolers, after-school programs, corporate, professional sales teams, workforce development, colleges and any other training format that needs a flexible, blended-learning employment or staff development solution.
About Community On Demand
The Community On Demand STEAM Education Trading Card Game is a free-to-play STEAM education and life skills development game that is played through the Money Guide for Young Entrepreneurs.  It uses eight lessons that teach students how to use the STEAM Investigative Process, form Junior Executive Management (JEM) Teams, and  create fun service learning projects that demonstrate how their STEAM skills affect the Community On Demand digital economy.
The Community On Demand Trading Card Game
also uses digital media technologies, marketing and distribution channels to help students increase the current marketplace value of their STEAM skills, launch business ventures, and address socio-economic conditions that negatively impact their community.
We Also Offer
See What's Happening Now Between
Legacies & Millennials
The CoD Game Strategy
The Community On Demand Trading Card Game is built upon a basic critical thinking and problem solving system call The STEAM Investigative Process (STEAM I.P.). It uses 68 employable STEAM skills and 270+ service goals (competencies) that are displayed on the front of each STEAM Education trading card.
Community On Demand combines STEAM education, digital badging, applied learning and the compelling collectible and strategic game play of a trading card game (TCG) with entertainment and entrepreneurship to help young innovators and entrepreneurs strengthen their employable STEAM skills, launch business ventures and improve their community.
A Message From The Author
Hear the incredible story of Dana Jewel Harris and how the loss of her beloved 4-acre farm in West End, Atlanta, GA helped her create The Community On Demand Trading Card Game, her Digital Badge Skillcoin Rewards System™ and "The Money Guide for Young Entrepreneurs" Activity Workbook.
She is currently preparing "The Power of Perception" Speaking Tour. Book her now for your next conference, workshop, professional development or classroom training event. We work with all budgets!
The NEXT Steps Youth Entrepreneur Program is an award-winning intermediary workforce development program that specializes in creating community engagement strategies for STEAM education initiatives.