The Revolution of STEAM Education
Through Financial Literacy ▪ Blockchain Technology ▪ Entertainment ▪ Entrepreneurship
About Us
[logo-carousel id=brands]
Serving Families & Communities Since 2008

The NEXT Steps Small Business Incubator & Youth Entrepreneur Program
Innovative EdTech Platform for STEAM Education
Our companies created Community On Demand to serve as a Veteran-led STEAM Entrepreneurship & Talent Pipeline Management System to help learners of all ages tranform their knowledge, special abilities, interests, STEAM skills and achievements int digital credentials, employment and career-building opportunities.
events@nextstepsyep.org
nextstepsyep.org
Career Awareness & Exploration
Innovation & Entrepreneurship
Workforce Readiness & Personal Branding
STEAM Career Selection
Leadership, Team-Building & Problem Solving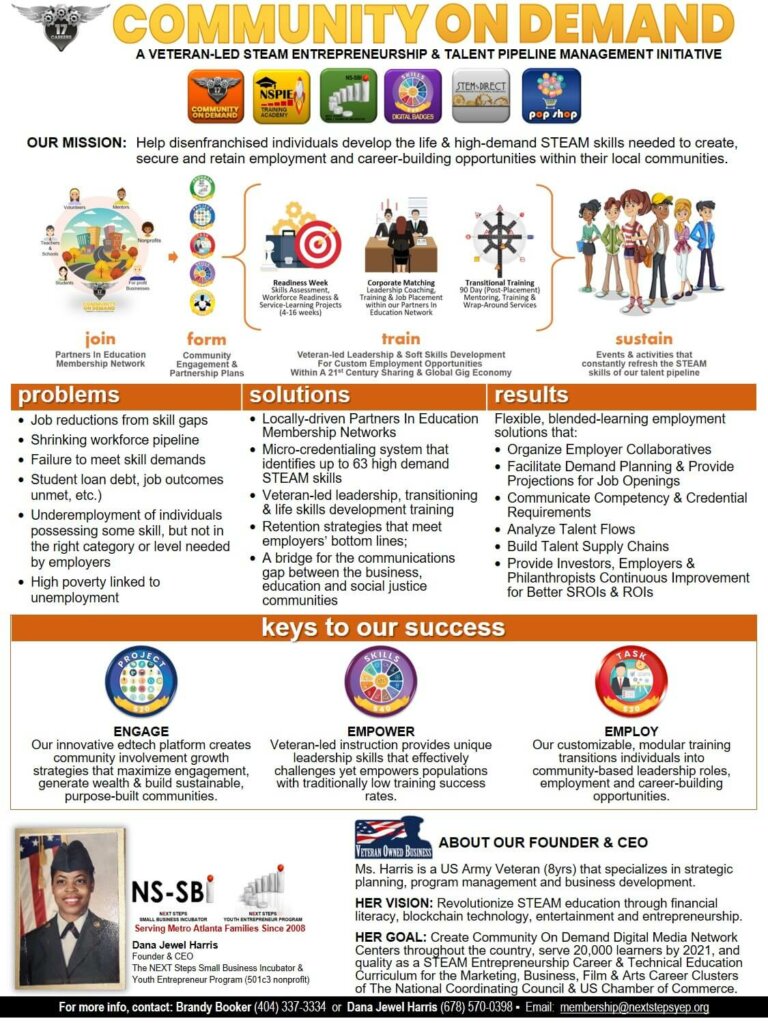 I want to know more!
I'd like to request a FREE consultation
Why We Must
Do Better. Think BIGGER!
Who We Are
The NEXT Steps Youth Entrepreneur Program is an award-winning, youth development intermediary that establishes lines of communication between students, schools, volunteers, mentors, nonprofit organizations and local businesses.
Together, with the edtech platform of The NEXT Steps Small Business Incubator, we are able to integrate our programming into school improvement plans and community engagement policies of Title I and targeted school districts.  As a collaborative impact solution, our Partners In Education are able to create work-based learning experiences that increase the technical and soft STEAM skills of K-12 youth, young adults, STEAM educators and lifelong learners.
Our Mission
Reduce the negative impact of poverty by eliminating the poverty mindset
Our Vision
Revolutionize STEAM education through financial literacy, blockchain technology, entertainment & entrepreneurship
Our Strategy & Management Team
In order to reduce the negative impact of poverty, the NEXT Steps Small Business Incubator & Youth Entrepreneur Program invented Community On Demand as a highly interactive community engagement strategy to help disenfranchised individuals gain the life and high-demand STEAM skills needed to create, secure and retain employment opportunities within their local communities.
For more information on how to integrate Community On Demand into your community development and workforce readiness initiatives, request a free 1-hr consultation. 
Our 2020 Partners In Education
[logo-carousel id=2019-2020-nspies]