Description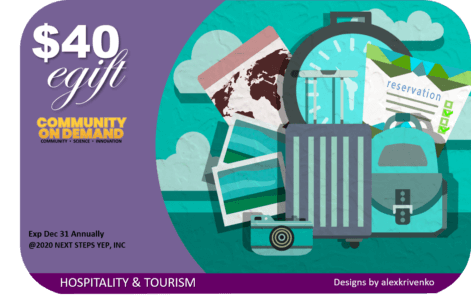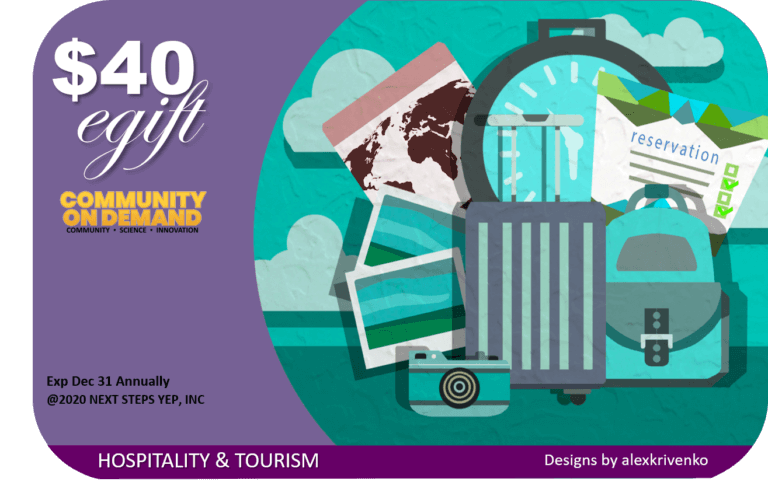 HOSPITALITY & TOURISM EGIFT CARD
$40.00 Sponsorship
Invest in learners that are exploring careers in the management, marketing & operations of restaurants and other lodging, attractions, travel & recreation events as they complete their service-learning project(s).

Career Pathways
Explore the major segments of the travel industry.
Examine the products, services, and packages offered to business and leisure travelers by different types of businesses within the industry.
Understand the leadership and supervision of employees in the travel, tourism, and hospitality industries as well as the management of operations in this industry.
Investigate the management level decision-making skills required for success in hotel/lodging, human resources, food and beverage, and travel/tourism operations.
Investigate trends, technology, and customs in the hospitality industry while focusing on the development of customer service skills.
Utilizing current technology, the Internet, interesting digital media (e.g., textual, graphical, audio, visual, and interactive elements), and software packages to develop a tour package and marketing plan for a selected niche market that incorporates appropriate promotional and pricing strategies, thus ensuring business profitability.
Triple Your Impact!
Your eGift card sponsorship is a 100% tax-deductible donation to students through the NEXT Steps Youth Entrepreneur Program (a 501c3 nonprofit organization) and will be distributed through three sustainability funds:
30% Student Stipend Fund – Cash stipends for students that submit proof of their work. Can be spend any way they choose.
40% Impact Project Fund – "Seed money" for Junior Executive Management Teams to purchase materials and services required to complete their STEAM Investigative Process.
30% CoD Network Fund – Funding used to create special events that  market, promote and distribute products, services and student achievements throughout the Community On Demand Digital Media Network.