Description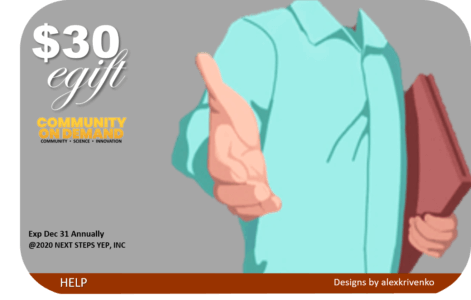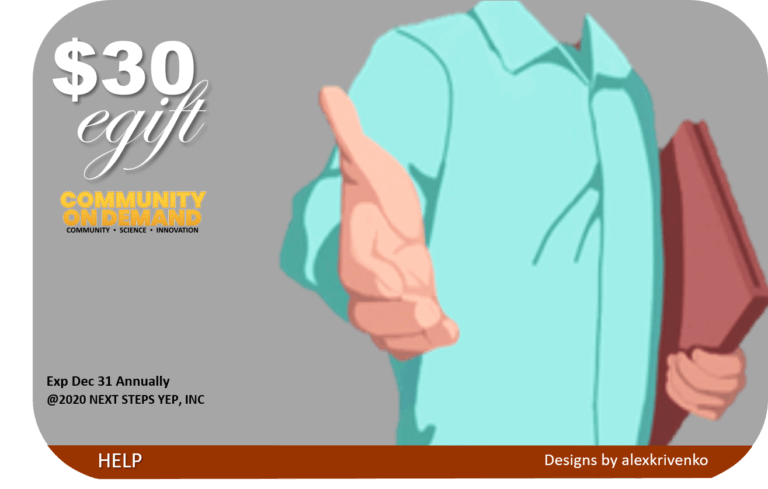 HELP EGIFT CARD
$30.00 Sponsorship
Invest in learners that are demonstrating how they participate fully in a work task or project from initiation to completion throughout the life of their service-learning project(s).

Service Goals
Learners must seek assistance and/or instructions from more knowledgeable sources by asking questions relevant to each task when needed.
Learners must bring suggestions of possible answers and solutions to their peers, mentors or community partners during individual or group discussions.
Learners must identify the most appropriate individual, mentor or community partner to provide assistance with completing tasks or answering questions.
Learners must use positive language indicative of their interests that demonstrate their willingness to learn.
Triple Your Impact!
Your eGift card sponsorship is a 100% tax-deductible donation to students through the NEXT Steps Youth Entrepreneur Program (a 501c3 nonprofit organization) and will be distributed through three sustainability funds:
30% Student Stipend Fund – Cash stipends for students that submit proof of their work. Can be spend any way they choose.
40% Impact Project Fund – "Seed money" for Junior Executive Management Teams to purchase materials and services required to complete their STEAM Investigative Process.
30% CoD Network Fund – Funding used to create special events that  market, promote and distribute products, services and student achievements throughout the Community On Demand Digital Media Network.