Description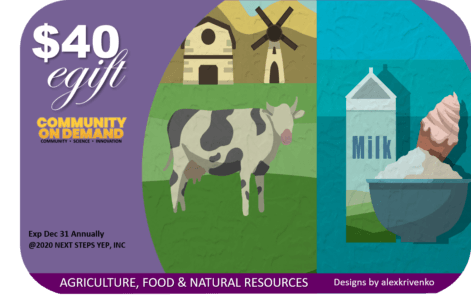 AGRICULTURE, FOOD & NATURAL RESOURCES EGIFT CARD
$40.00 Sponsorship
Invest in learners that are exploring careers in agribusiness, agritourism, environmental services, food processing, animal, plant, power & natural resource systems as they complete their service-learning project(s).

Career Pathways
Agribusiness Systems – Projects that includes agrichemicals, breeding, crop production (farming and contract farming), distribution, farm machinery, processing, and seed supply, as well as marketing and retail sales.
Animal Systems – Projects related to the raising and caring of animals and developing more efficient ways of producing and processing meat, poultry, eggs and dairy products. Workers study genetics, nutrition, reproduction, growth and care of domesticated farm animals.
Environmental Service Systems – Projects involved in water and air pollution control, recycling, waste disposal and public health issues.
Food Products & Processing Systems – Projects involved in bulk food production, the discovery of new food sources, the analysis of food content, and the development of ways to process, preserve, package or store food according to consumer needs, and. Includes those who monitor compliance with industry and government regulations.
Natural Resources Systems – Projects that develop, use, maintain, manage, and analyze natural resources that include catching and trapping various types of marine life and work related to recreation, wildlife, conservation, mining, logging, or oil drilling.
Plant Systems – Projects related to growing food, feed, and fiber crops, and the study of plants and their growth to help producers meet consumer demand while conserving natural resources and maintaining the environment.
Power, Structural & Technical Systems – Projects that require applied knowledge of engineering, hydraulics, pneumatics, electronics, power, structures, and controls to the field of agriculture in order to design agricultural structures, machinery and equipment.
Triple Your Impact!
Your eGift card sponsorship is a 100% tax-deductible donation to students through the NEXT Steps Youth Entrepreneur Program (a 501c3 nonprofit organization) and will be distributed through three sustainability funds:
30% Student Stipend Fund – Cash stipends for students that submit proof of their work. Can be spend any way they choose.
40% Impact Project Fund – "Seed money" for Junior Executive Management Teams to purchase materials and services required to complete their STEAM Investigative Process.
30% CoD Network Fund – Funding used to create special events that  market, promote and distribute products, services and student achievements throughout the Community On Demand Digital Media Network.