Description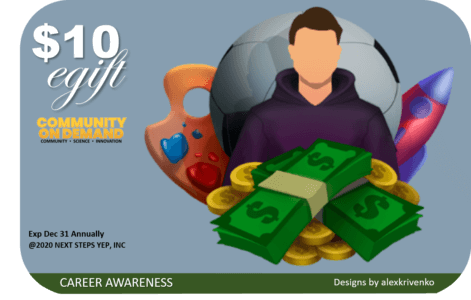 CAREER AWARENESS EGIFT CARD
$10.00 Sponsorship
Invest in learners that are recognizing the connection between their interests, capabilities, aptitudes and career goals.

Service Goals
Learners must identify their personal values as it relates to a chosen STEAM career pathway or industry.
Learners must compare how their individual needs and wants relate to what is required to acquire high-demand STEAM skills and careers.
Learners must identify their current strengths to determine their ability to meet the needs of their desired STEAM career pathway.
Triple Your Impact!
Your eGift card sponsorship is a 100% tax-deductible donation to students through the NEXT Steps Youth Entrepreneur Program (a 501c3 nonprofit organization) and will be distributed through three sustainability funds:
30% Student Stipend Fund – Cash stipends for students that submit proof of their work. Can be spend any way they choose.
40% Impact Project Fund – "Seed money" for Junior Executive Management Teams to purchase materials and services required to complete their STEAM Investigative Process.
30% CoD Network Fund – Funding used to create special events that  market, promote and distribute products, services and student achievements throughout the Community On Demand Digital Media Network.