The Community On Demand Digital Society
A Digital Economy Fueled By STEAM Education
Where young innovators and entrepreneurs win the real game of life by strengthening their employable STEAM skills, launching business ventures and improving their community
Contribute To The CoD Society By Increasing The Value Of Your STEAM Skills
Are You Ready To Play?
Click any option below to start game play
Build Your Business Inside Our Digital Society
Use our skill-building curriculum, resources and distribution networks to get started!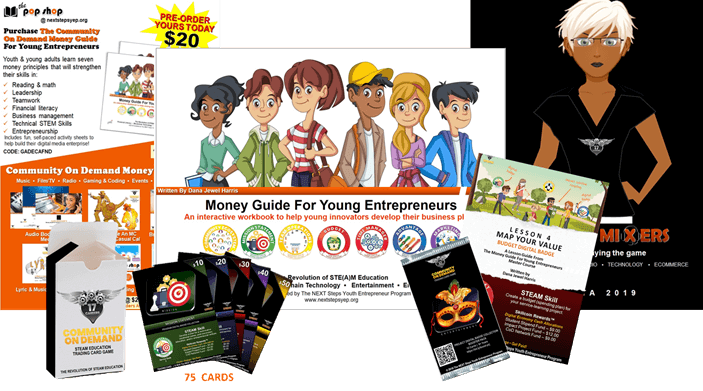 Complete The STEAM Investigative Process

Learn how to turn your innovative ideas into a service-learning project or business venture that benefits your community
Explore Your Community

Identify resources that address socio-economic indicators (conditions) that positively or negatively impact your community
Define Your Solution

Create a digital badge collection based on the STEAM skills you need to address each socio-economic indicator
Build Your Team

Use our Community Involvement Growth Strategy Model to form a Junior Executive Management (JEM) Team
Map Your Value

Use digital media technologies to determine your costs and fundraising strategies

Manage Your Assets

Use calendars and planning tools to coordinate dates, times and locations for project activities

Package Your Skills
Create your JEM Team's brand profile and presentation materials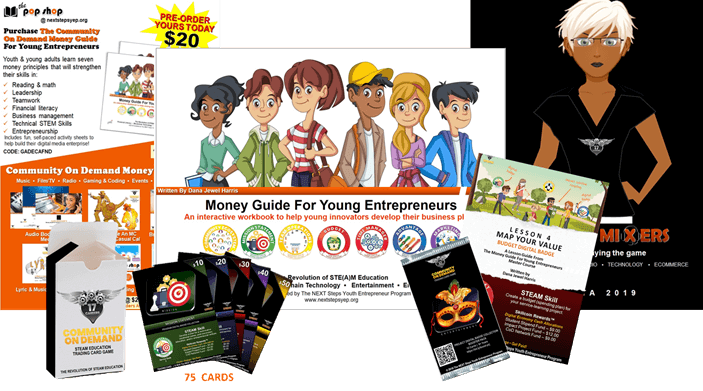 Want To License Our Curriculum Or Create Your Own?
We'll help! Our curriculum and activity toolkits are perfect for youth, teens, young adults, adults, homeschoolers, after-school programs, corporate, professional sales teams, workforce development, colleges and any other training format that needs a flexible, blended-learning employment or staff development solution.
The NEXT Steps Youth Entrepreneur Program is an award-winning intermediary workforce development program that specializes in creating community engagement strategies for STEAM education initiatives.