Description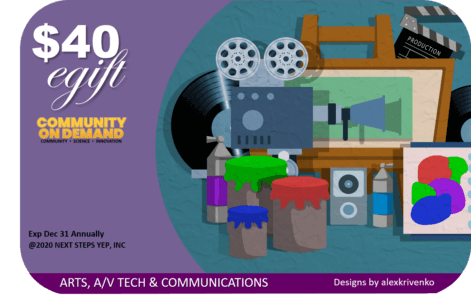 ARTS, A/V TECH & COMMUNICATIONS EGIFT CARD
$40.00 Sponsorship
Invest in learners that are exploring careers in visual and performing arts and design, journalism, and publishing multimedia content as they complete their service-learning project(s).

Career Pathways
A/V Technology & Film – Projects that manufacture, sell, rent, design, install, integrate, operate, and repair the equipment of audio-visual communications (i.e., editing and filming video) and includes the presentation of sound, video and data in such venues as offices, convention centers, classrooms, theme parks and stadiums.
Printing Technology – Projects involved in prepress, press and binding, or post-press processes; transforming text and pictures for printing plates; or using digital technology for graphics, layout or printing which includes operating and maintaining equipment or computers used in the printing process.
Visual Arts – Projects involved in artistic creation through painting, sculpting, illustrating, fashion, or floral design, and the use of an assortment of materials, including oils, watercolors, acrylics, pastels, pencils, pen and ink, photography, plaster, clay, textiles, plants, and computers.
Visual Arts – Performing Arts – Projects involved in the creation, development and production of theatrical and musical performances that includes workers at practice halls, studios and performance venues.
Journalism & Broadcasting – Projects that research, write or produce news stories or broadcasts, or present commentaries and are involved in publishing and writing which includes projects that install, repair and operate digital or electronic equipment used to record and transmit radio or television programs and motion pictures.
Telecommunications – Projects involved in the interaction between computer and communications equipment which includes jobs to install or repair data, graphics, video and digital equipment.
Triple Your Impact!
Your eGift card sponsorship is a 100% tax-deductible donation to students through the NEXT Steps Youth Entrepreneur Program (a 501c3 nonprofit organization) and will be distributed through three sustainability funds:
30% Student Stipend Fund – Cash stipends for students that submit proof of their work. Can be spend any way they choose.
40% Impact Project Fund – "Seed money" for Junior Executive Management Teams to purchase materials and services required to complete their STEAM Investigative Process.
30% CoD Network Fund – Funding used to create special events that  market, promote and distribute products, services and student achievements throughout the Community On Demand Digital Media Network.