Description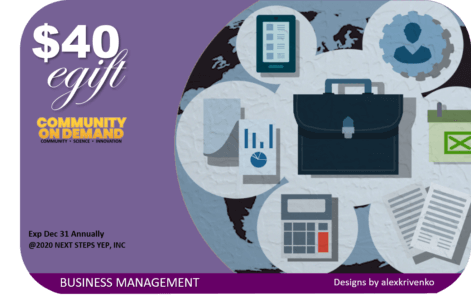 BUSINESS MANAGEMENT & ADMINISTRATION EGIFT CARD
$40.00 Sponsorship
Invest in learners that are exploring careers in planning, organizing, directing and evaluating functions essential to efficient and productive business operations as they complete their service-learning project(s).

Career Pathways
General Management – occupations that plan, organize, direct, and evaluate all or part of a business organization through the allocation and use of financial, human, and material resources.
Business Information Management – occupations that provide a bridge between business processes or initiatives and information technology processes to help align business and IT goals.
Human Resources Management – occupations that focus on staffing activities that involve planning, recruitment, selection, orientation, training, performance appraisal, compensation, and safety of an organization's employees.
Operations Management – occupations that focus on planning, organizing, coordinating, and controlling the resources needed to produce or provide a business' goods and/or services that include quality control, scheduling, procurement, and warehousing.
Administrative Support – occupations that facilitate business operations through a variety of administrative and clerical duties including information and communication management, data processing and collection, and project tracking.
Triple Your Impact!
Your eGift card sponsorship is a 100% tax-deductible donation to students through the NEXT Steps Youth Entrepreneur Program (a 501c3 nonprofit organization) and will be distributed through three sustainability funds:
30% Student Stipend Fund – Cash stipends for students that submit proof of their work. Can be spend any way they choose.
40% Impact Project Fund – "Seed money" for Junior Executive Management Teams to purchase materials and services required to complete their STEAM Investigative Process.
30% CoD Network Fund – Funding used to create special events that  market, promote and distribute products, services and student achievements throughout the Community On Demand Digital Media Network.