Description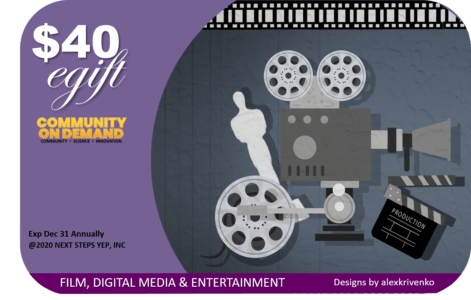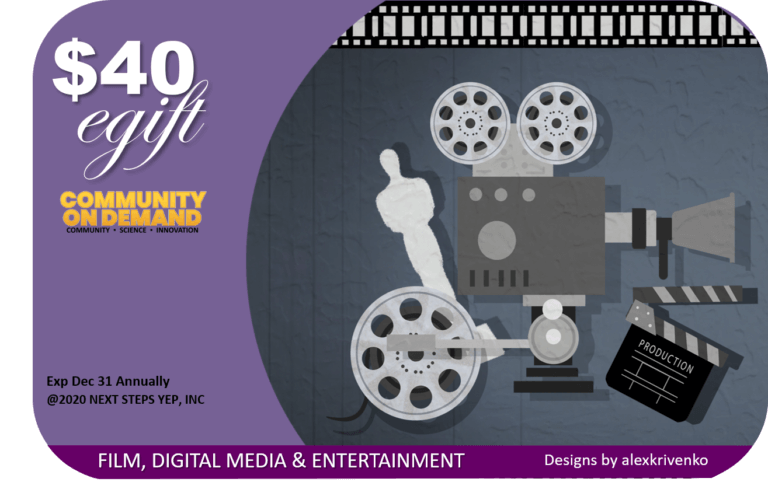 FILM, DIGITAL MEDIA & ENTERTAINMENT EGIFT CARD
$40.00 Sponsorship
Invest in learners that are exploring careers in designing, producing, exhibiting, performing, writing, and entertainment services as they complete their service-learning project(s).

Career Pathways
Demonstrate proper set-up and use of basic production equipment and follow safety procedures when working with TV equipment.
Identify and create various types of scripts.
Demonstrate proper use and operation of studio equipment and production techniques while working as part of a production team during a studio broadcast.
Demonstrate teamwork and proper use of equipment while participating in a live field production which may include electronic news gathering, film work or streaming live events.
Demonstrate the use of technology in recording and post-production applications.
Develop an understanding of audio video and film careers, describe the principal fields of specializations and identify associated career opportunities.
Triple Your Impact!
Your eGift card sponsorship is a 100% tax-deductible donation to students through the NEXT Steps Youth Entrepreneur Program (a 501c3 nonprofit organization) and will be distributed through three sustainability funds:
30% Student Stipend Fund – Cash stipends for students that submit proof of their work. Can be spend any way they choose.
40% Impact Project Fund – "Seed money" for Junior Executive Management Teams to purchase materials and services required to complete their STEAM Investigative Process.
30% CoD Network Fund – Funding used to create special events that  market, promote and distribute products, services and student achievements throughout the Community On Demand Digital Media Network.