Description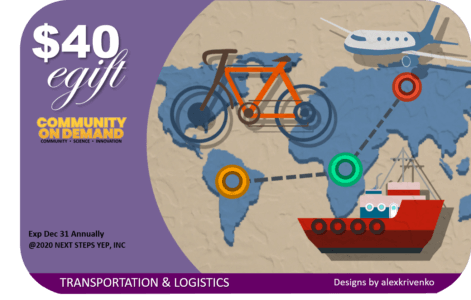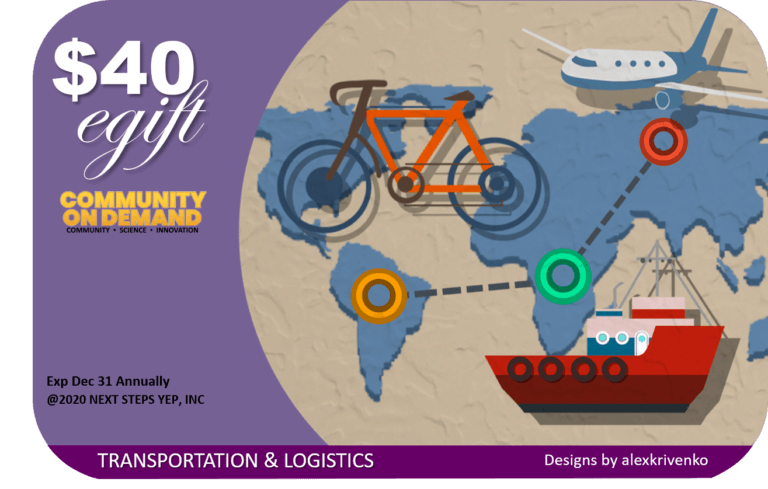 TRANSPORTATION, LOGISTICS & DISTRIBUTIONS EGIFT CARD
$40.00 Sponsorship
Invest in learners that are exploring careers in planning, management, and movement of people, materials, and goods by road, pipeline, air, rail and water as they complete their service-learning project(s).

Career Pathways
Explain why individuals, businesses and governments trade goods and services and employ transportation infrastructure planning and management, logistics services, mobile equipment and facility maintenance
Supply clarifying information to customers, associates, the parts supplier, and the supervisor when coordinating your service-learning projects, activities and events.
Evaluates the waste products resulting from a task, project or event and handles the disposal of materials in accordance with applicable federal, state, and local rules and regulations.
Uses computerized and other databases to obtain system information and construct charts, tables, or graphs that depict a range of performance characteristics of various system operational conditions that can be used for comparisons.
Explain the concept and the components of College Town's global economy and define the wants, needs, exchanges, scarcity, economic costs, competition, price, and non-price competition that your service project addresses.
Differentiate between the factors of production, define the Law of Supply and the Law of Demand, and illustrate on a graph how supply and demand determine equilibrium price and quantity.
Triple Your Impact!
Your eGift card sponsorship is a 100% tax-deductible donation to students through the NEXT Steps Youth Entrepreneur Program (a 501c3 nonprofit organization) and will be distributed through three sustainability funds:
30% Student Stipend Fund – Cash stipends for students that submit proof of their work. Can be spend any way they choose.
40% Impact Project Fund – "Seed money" for Junior Executive Management Teams to purchase materials and services required to complete their STEAM Investigative Process.
30% CoD Network Fund – Funding used to create special events that  market, promote and distribute products, services and student achievements throughout the Community On Demand Digital Media Network.