Description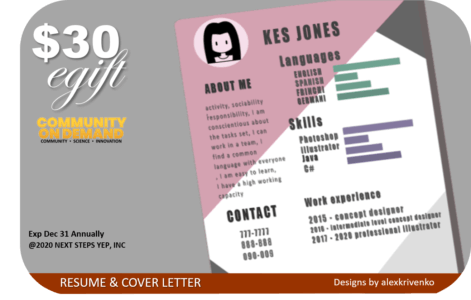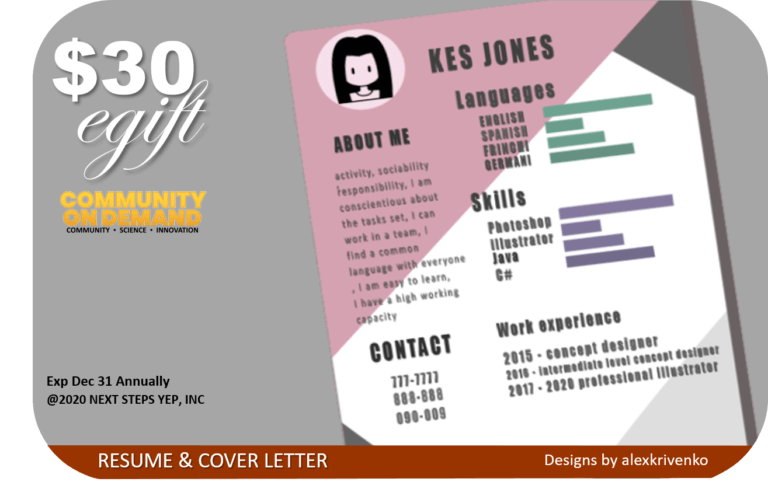 RESUME & COVER LETTER EGIFT CARD
$30.00 Sponsorship
Invest in learners that are demonstrating how they complete their STEAM resume and cover letter to highlight the value of their achievements as they complete their service-learning project(s).

Service Goals
Learners must define the term resume
Learners must describe different resume formats.
Learners must explain what a cover letter is and what it should contain.
Learners must prepare a professional STEAM resume and financial portfolio for their service-learning project(s).
Learners must complete a professional cover letter that highlights the impact of their service-learning project(s).
Triple Your Impact!
Your eGift card sponsorship is a 100% tax-deductible donation to students through the NEXT Steps Youth Entrepreneur Program (a 501c3 nonprofit organization) and will be distributed through three sustainability funds:
30% Student Stipend Fund – Cash stipends for students that submit proof of their work. Can be spend any way they choose.
40% Impact Project Fund – "Seed money" for Junior Executive Management Teams to purchase materials and services required to complete their STEAM Investigative Process.
30% CoD Network Fund – Funding used to create special events that  market, promote and distribute products, services and student achievements throughout the Community On Demand Digital Media Network.