Description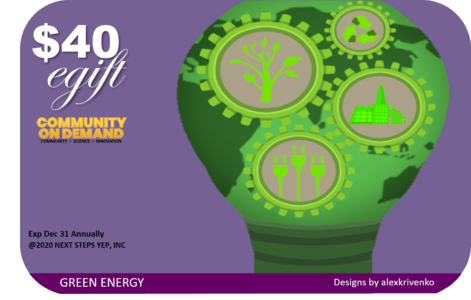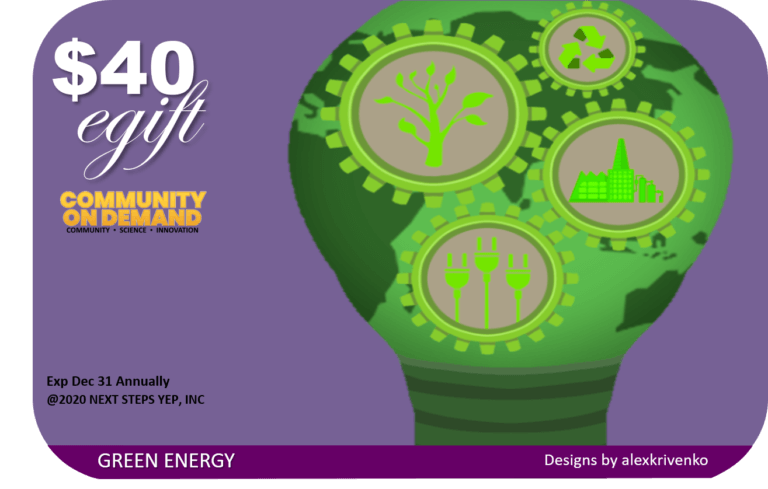 GREEN ENERGY & SUSTAINABLE TECHNOLOGIES EGIFT CARD
$40.00 Sponsorship
Invest in learners that are exploring careers in solar, wind energy, hydroelectric, ocean, geothermal, biomass, and hydrogen as they complete their service-learning project(s).

Career Pathways
Explore the relationship between force, work, energy, and power and study the characteristics, availability, conversion, control, transmission, and storage of energy and power
Explore and apply the principles of electrical and mechanical power systems, develop an understanding of the differences between nonrenewable and renewable energy sources, and explain how energy conservation sources and efforts affect your world
Develop an awareness of the many careers that exist in energy and related technologies and their related safety regulations
Research alternative energy sources to explain their regional implications and economic, environmental, and sustainability issues.
Evaluate the positive and negative impacts of nuclear power and its relevancy to various situations in today's society.
Explain future trends of energy, power, and transportation to develop potential alternative energy systems and solutions that demonstrate a unique and appropriate approach to energy generation.
Understand and manage the economic activities needed to meet the evolving needs of individuals and communities within the limits of their natural resources and ecosystems.
Triple Your Impact!
Your eGift card sponsorship is a 100% tax-deductible donation to students through the NEXT Steps Youth Entrepreneur Program (a 501c3 nonprofit organization) and will be distributed through three sustainability funds:
30% Student Stipend Fund – Cash stipends for students that submit proof of their work. Can be spend any way they choose.
40% Impact Project Fund – "Seed money" for Junior Executive Management Teams to purchase materials and services required to complete their STEAM Investigative Process.
30% CoD Network Fund – Funding used to create special events that  market, promote and distribute products, services and student achievements throughout the Community On Demand Digital Media Network.