Description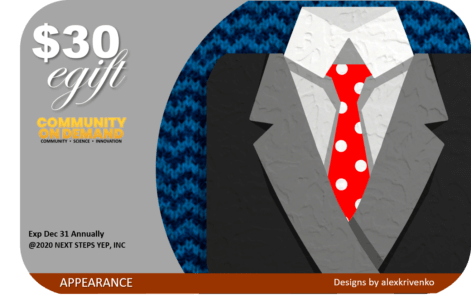 APPEARANCE EGIFT CARD
$30.00 Sponsorship
Invest in learners that are demonstrating how they know the importance of personal hygiene and the appearance that is required by their employer, mentor and team as they complete their service-learning project(s).

Service Goals
Learners must show their values on personal hygiene and appearance to their employer, mentor and team.
Learners must demonstrate and describe proper workplace attire and where to acquire it.
Learners must describe elements of personal appearance that could impact employment such as body piercings and tattoos.
Learners must be well groomed and appropriately dressed on a daily basis.
Learners must identify appropriate clothes for various events.
Triple Your Impact!
Your eGift card sponsorship is a 100% tax-deductible donation to students through the NEXT Steps Youth Entrepreneur Program (a 501c3 nonprofit organization) and will be distributed through three sustainability funds:
30% Student Stipend Fund – Cash stipends for students that submit proof of their work. Can be spend any way they choose.
40% Impact Project Fund – "Seed money" for Junior Executive Management Teams to purchase materials and services required to complete their STEAM Investigative Process.
30% CoD Network Fund – Funding used to create special events that  market, promote and distribute products, services and student achievements throughout the Community On Demand Digital Media Network.