Community On Demand (The CoD)
A STEAM Education & Life Skills Development Game

Do Better. Think Bigger!
We provide the ultimate STEAM education curriculum that
helps young innovators & entrepreneurs build businesses that support their community
Click products and services links below to learn more

"One of the center's first programs this summer, Money Guide for Young Entrepreneurs, invites students to free summer classes from June 10 to Aug. 2. Students will pick a community issue and use science, technology, engineering, art and math skills to tackle the problem . . ."

– BY LUKE RANKER, Fort Worth Star-Telegram
https://www.star-telegram.com/latest-news/article230076634.html
MAY 06, 2019 01:56 PM,
UPDATED MAY 06, 2019 04:06 PM
"[The Money Guide for Young Entrepreneurs] is a resource guide that stimulates STEAM concepts, community transformation, leadership and entrepreneurship. It is timely, creative and innovative!"
– Chike Akua, Ph.D., Author
Education for Transformation:
The Keys to Releasing the Genius of African American Students
www.drakua.net
Our powerful Learning Management System (LMS) is a flexible, blended-learning employment solution for learners, STEAM educators & employers
NEXT Steps Online Training Academy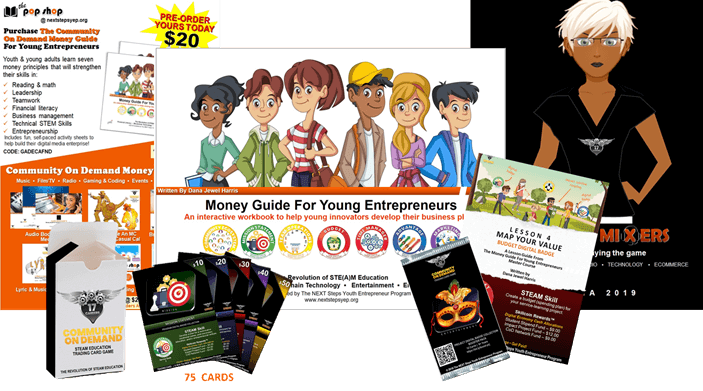 Want To License Our Curriculum Or Create Your Own?
We'll help! Our curriculum and activity toolkits are perfect for youth, teens, young adults, adults, homeschoolers, after-school programs, corporate, professional sales teams, workforce development, colleges and any other training format that needs a flexible, blended-learning employment or staff development solution.
Our community-driven platform is a marketing cooperative that provides business support services for fundraisers, startup ventures & service-learning projects.
The Community On Demand Digital Media Network

WORKSHOPS
Fun, hands on training events with a NEXT Steps instructor or JEM team leader.
POP SHOP EVENTS
Special events, career fairs, investor/mentor meetups, showcases and pop up vending opportunities.
DIGITAL MEDIA NETWORK
Our marketing & distribution networks in music, film/tv, fashion, radio, gaming, digital media, arts & entertainment.
Our Mission
To revolutionize STEAM education through financial literacy, blockchain technology, entertainment & entrepreneurship
The Digital Badge & Skillcoin Rewards System™

The Community On Demand digital economy uses digital media technologies and gaming elements to turn innovative learners into earners
The Community On Demand Trading Card Game

Flashcards for sales teams & business pitches
Flow charts & organizational development charts
Business cards, leave behinds & resume builders
Personal & professional development
Self-help courses and self-pace learning
Leadership training & development
Public speaking & communications teaching tools
Digital badges are industry-recognized micro-credentials that can lead to industry-based certifications.
Click a membership level to join or register for a FREE user account.
The NEXT Steps Youth Entrepreneur Program is an award-winning intermediary workforce development program that specializes in creating community engagement strategies for STEAM education initiatives.